Expand your Level Measurement Capabilities with Versatile Measurement Equipment
With so many different measurement techniques and types of materials to be measured, you need equipment with versatile capabilities. Our measurement devices can cover your varying level measurement needs, accurately obtaining level measurement whether you need continuous measurement, non-contact devices, or measurement in extreme conditions.
Products

In continuous level measurement, the level of a medium in a tank or silo is detected with the help of different measuring methods and converted into an electronic signal. Typical applications for continuous level measurement are process tanks, storage tanks or silos in the process industry. Continuous level measurement systems can be used in liquids, pastes, powders and bulk solids.

The proportion of solid matter in a liquid is determined with the help of density measurement. Typical applications in the process industry are the measurement of acid and lye concentrations, the mixture density of abrasive or sticky liquids and the solid matter content of sludges and slurries.

Displacer level technology operates by detecting changes in buoyancy force caused by liquid level change. These forces act upon the spring supported displacer causing vertical motion of the core within a linear variable differential transformer.

Level Switches are sensors that alert you when your process material, such as liquid, powder or bulk level, reach a specified level. External cage, displacer, float, & thermal dispersion are different types of level switches available from Magnetrol.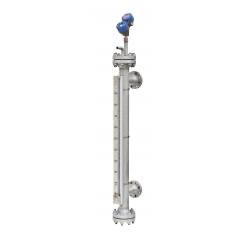 MAGNETIC LEVEL INDICATOR/BRIDLE
Magnetic Level Indicators (MLI) have revolutionized the global visual indication market by offering a safer, reliable, and high-visibility alternative to common gauge glass assemblies. Utilizing a combination of proven buoyancy principles along with the benefits magnetism, MLIs can be customized to fit virtually any process connection arrangement on the vessel. The chamber and magnetic float is available in a variety of materials and pressure ratings to accommodate the wide variety of complex process applications present in the world's major industrial facilities.

In point level detection, a point level switch detects when a certain, predefined level is reached. Such a device is employed when it is not necessary to measure every possible intermediate level. A switching command starts or stops filling equipment such as levels or pumps. Point level detection systems can be used with liquids, pastes, powders or bulk solids.

PROUDLY REPRESENTING: