Why Is Calibration Important?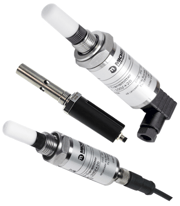 If you are reading artificially low, that means you're reading lower moisture levels than you most likely have. So you could have moisture levels that are too high for your process. This could lead to off-spec product, freezing, hydrates and corrosion.
Off-Spec Product – For pipelines, the producer might get shut in, and not be able to sell their gas. This can be detrimental since they cannot sell anything until the problem is fixed. For chemical plants, this can lead to a re-run of the off-spec product, impacting production.
Freezing – In cryogenic gas plants, in particular, if the mole sieve beds aren't working well, the process unit can actually have enough moisture inside to form solid ice and freeze. This damages compressors and other equipment. In other applications, if the moisture in the process reaches dew point level close to the ambient temperature, the water inside the process can also form ice, which can also lead to equipment damage.
Hydrates – Hydrates are formed by the union of water with methane. Hydrates can form in pipelines and in gas gathering, compression and transmission facilities at reduced temperatures and high pressures. Once hydrates are formed, they can plug the pipelines and significantly affect production operations. Think of having to jack-hammer these out of a line, or simply having to replace the lines.
Corrosion – Water can combine with carbon dioxide or hydrogen sulfide in a line and form acids that can eat away at the inside of the piping and other equipment it touches, impacting production. Corrosion can be a safety hazard as well. Unawareness leads to equipment failure without notice.
In order to minimize uncertainty and have confidence in measurements made with the instrument, it is important to have the quality assurance of a regular, accredited calibration procedure. Regardless of the manufacturer of your moisture system, we can help you determine its current condition and help with evaluating calibration options. Our TechStar On Call - Moisture Analysis Program has been designed for this exact purpose.
TechStar On Call - Moisture Analysis
Moisture analyzers and dew point sensors that are used in critical measurements within a control process need frequent calibration to ensure proper readings. Through our partnership with Michell Instruments, we have launched the TechStar On Call - Moisture Analysis Program to help our customers achieve optimum ongoing performance.
We can help you?
Evaluate your current moisture system

Provide solutions to optimize the performance of your process
Tailor custom training and/or provide onsite troubleshooting
Facilitate the TechStar/Michell Calibration Maintenance Program
TechStar/Michell Calibration Maintenance Program
To make the process of re-calibration and maintenance as simple and convenient as possible, we offer three standard options, plus a specific service for hazardous area equipment. Our UKAS-accredited calibration laboratory offers calibrations for moisture, dew point and humidity instruments, traceable to NPL and NIST.

Sensor Service Exchange Program
For the majority of our dew-point transmitters we offer a very convenient sensor exchange program. Using this unique service is undoubtedly the quickest and most efficient method of maintaining calibration and one that will avoid any instrument downtime. Michell Instruments send you a freshly calibrated sensor and you simply return your old sensor to us within 21 days.

Sensor Re-calibration Program
This traditional approach also offers good value: you can choose to return your dew-point instrument or moisture sensor to us at any time and we will calibrate the instrument or exchange the sensor for you. For a small additional cost we will also provide reading before and after calibration, if requested at time of order.

On-Site Service
We can also offer customers a range of on-site service options from replacing Easidew transmitters to full service and commissioning of process analyzer systems. For more details, click here.

Extended Maintenance Agreement (EMA)
An EMA includes full application support, annual traceable dew-point or humidity calibration or sensor exchange, free software upgrades and all repairs as/when required. Michell Instruments can offer this comprehensive maintenance contract for anything between 1 and 4 years duration.
Because instruments and sensors need regular re-calibration, this option offers the best value as you will quickly re-coup the cost of this agreement – with the added peace of mind knowing that all repairs are covered.

Customer Serviceable Parts of Hazardous Area/Location Rated Products
The global safety restrictions relating to the installation, operation & service of products for use within Hazardous Areas/Locations means there are only limited and specific parts of these types of products that can be serviced by customers. We have a servicing process to aid customers to maintain and calibrate their hazardous area products as effectively as the regulations will permit.
Specific spares for each Hazardous Area/Location product can be ordered from Michell Instruments. Each spares kit is supplied with comprehensive fitting instructions and relevant paperwork to ensure the appropriate warranties are maintained. Our experienced customer services department will also help to ensure the process goes smoothly.