ANALYTICAL GAS: CEMS ANALYZERS
9900RM GAS ANALYZER
The 9900 is a single or multi-component gas analyzer that can be used alone or as an integrated part of a continuous emissions monitoring (CEM) system. Configurable to measure most gas species that are absorbed in UV, it delivers excellent baseline stability and minimal span drift, with no interference from water and carbon dioxide.

914 CONTINUOUS EMISSION MONITORING SYSTEM
Fully customizable, the 914 uses the UV-based 9900RM analyzer to provide the most precise direct sulfur dioxide (SO2) measurement, along with oxides of nitrogen (NOx) to cover all standard emissions parameters.

909/910 HOT/WET MULTI GAS MASS FLOW CEM
The 909 is a single gas continuous emissions monitoring (CEM) system that measures stack effluent temperature and velocity alongside pollutant concentrations at stack conditions. This enables mass emission rates to be reported. Capable of measuring up to five different gases simultaneously, the 910 is a complete analysis system, with a sample extraction and transport designed for maintaining sample integrity.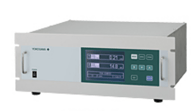 INFRARED GAS ANALYZER IR202
The model IR202 is capable of measuring concentration of CO2, CO, CH4, SO2, and NO components in process gas by using the non-dispersive infrared method (NDIR), while measuring O2 with the paramagnetic or zirconia method.

The IR400 infrared gas analyzer is capable of measuring the concentrations of NO, SO2, CO2, CO, CH4 and O2 components in sample gas. NO, SO2, CO2, CO and CH4 are measured by the non-dispersive infrared method, while O2 is measured by built-in paramagnetic sensor or external zirconia sensor.

Together with our partners, we specialize in understanding the specific nuances of the particular processes in the petrochemical, refining, pulp, paper and power industries. We help in the design of customized heat trace systems and the selection of the correct type of heat tracing bundles.

PROUDLY REPRESENTING: