PROTECT YOUR PROCESS | DEFEAT DOWNTIME
Our comprehensive product range and full service options fulfill demanding applications and account for the safety, condition and performance monitoring of your rotating machinery. Choosing the right Condition & Vibration Monitoring solution is paramount for your facility: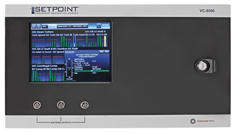 To help ensure machinery longevity, it is important to determine the condition of machinery and bearings while in operation. Good predictive maintenance will help reduce machine downtime and decrease overall maintenance costs.
Our condition monitoring line has a wide range of instruments for analyzing critical environmental conditions that have an impact on machine performance.