ALLEVIATE YOUR LEVEL MEASUREMENT FOAM HEADACHES
Many liquid tanks in the chemical, refining, food & beverage, life sciences and other process industries can, at times, have foam present. The dynamic nature of foam means there is no "one-size-fits-all" measurement solution. In addition to knowing what type of measurement is required, it is also critical to consider the characteristics of the foam itself.
There are many reasons why foam can be present in a tank, including the introduction
of air/gas into the product being measured or the operation of agitators/mixing blades. Regardless of the source, care must be taken when choosing a level measurement technology to prevent unnecessary errors or loss of measurement.
FOAM CHALLENGES
Foam's dynamic mixture of gas and liquid can present difficulties for traditional level technologies that are commonly employed for liquid level measurement. In general, there are three potential level measurements that would involve a liquid tank with foam:

Most of the time a continuous measurement of the liquid is desirable, as this is the valuable product being processed. Although a level switch may suffice when the goal is to simply monitor the presence or absence of the foam layer at a specific point, a transmitter can provide additional insight into vessel contents to improve the overall process. Many tanks have both a continuous level transmitter in operation along with a point level switch.
Determining a technology's suitability on a foaming application is dependent on the goal relative to the measurement: detect foam (point or continuous), ignore foam (liquid only measurement)
or measure both foam and liquid. Additionally, the foam thickness and properties of the foam, such as density, bubble size and dielectric constant are key considerations that can impact the level measurement.
REALIZING OPERATIONAL IMPROVEMENTS
If there are existing issues in a process attributed to foam, consider reviewing the level technology (point or continuous) currently in use. The correct technology will reduce maintenance and environmental impact costs while enhancing process throughput.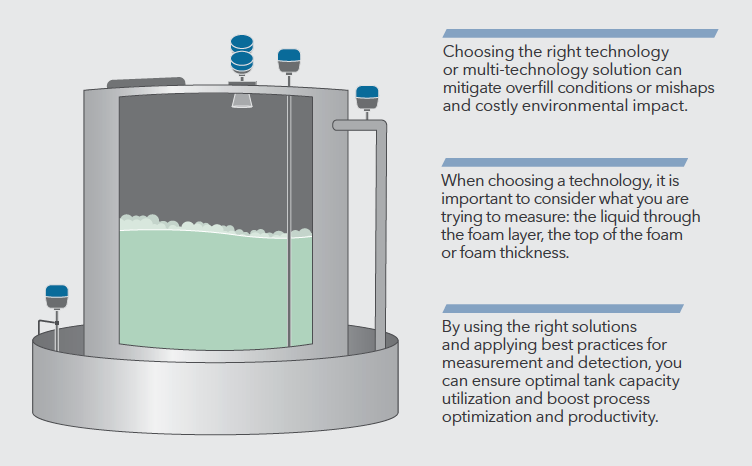 Every facility has unique requirements, but what many of them have in common is frustration with foam. It is vitally important to understand and leverage the strength of a technology while incorporating sound design principles to mitigate any shortfall. This is the key to reliability, reduced costs and increased productivity.
TechStar's expertise in the level measurement industry has given us the depth of application and technology expertise necessary to mitigate foam issues, along with other application challenges faced in chemical processing and other process industries. If foam is giving your process a headache, fill out the form on this page or give us a call. Whether you are looking for for some tips & tricks or a complete solution replacement, our technical resources have seen it all and are on hand to assist your process.