Are You prepared for Tight regulAtion enforcement?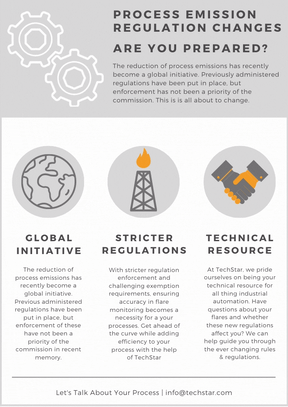 As you are aware, the reduction of process emissions has recently become a global initiative. Previously administered regulations have been put in place, but enforcement of these have not been a priority of the commission in recent memory. This is is all about to change. With stricter regulation enforcement and challenging exemption requirements, ensuring accuracy in flare monitoring becomes a necessity for a your processes. Common applications that will be more strictly monitored include:
Measuring of waste gas to flares

Natural Gas & Air Flow Measurement to Boilers & Heaters

Gas Measurement From Separators at Oil & Gas Well Heads

Vent Gas From Tank Batteries & Gas Storage Systems

Pure & Mixed Gas Measurement for Industrial Processes

Nitrogen Blanketing,

Compressed Air,

Natural Gas & Much More...
It is now more important than ever to ensure that your flares are being monitored accurately. At TechStar, we pride ourselves on being your technical resource for all thing industrial automation. Do you have questions about your flares and whether these new regulations affect your process? We can help guide you through the ever changing rules & regulations:
GET AHEAD OF THE CURVE WHILE SIMPLIFYING YOUR PROCESS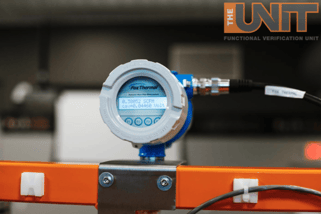 Flare and combustor gas flow monitoring requires a flow meter that meets the accuracy and periodic calibration verification requirements set by local environmental agencies. The Model FT4X meets & exceeds these requirements. Direct mass flow measurement, exceptional low-flow sensitivity, fast response, and low maintenance requirements distinguish the Fox Model FT4X. Key benefits the Fox Thermal FT4X has in the increasingly tighter regulations include:

Get Ahead Of The Curve
Lowering emissions is an ongoing initiative by both the RRC & TCEQ. Rule 32 is in place to combat this issue, but has not been completely enforced. Exemptions are becoming increasingly challenging to reach and the commission with be strictly enforcing regulations. Get ahead of the curve with a Fox Thermal Model FT4X.

Commission Fines Outweigh The Solution Cost
The Railroad Commission of Texas assessed $10,799,103 in fines on 4,232 enforcement dockets involving the state's oil and gas industry and intrastate pipeline safety in 2019. In comparison to reoccurring commission fines, the cost of our solutions & installation pale in comparison.

Repeatability & Exceptionally Broad Measurement Range
Up to 1000:1 (100:1 typical). Whether the flow is at a very high or low velocity, The Fox Thermal FT4X mass flow meter can measure it.

Increase Facility Efficiency
With innovative data logging included, let The Model FT4A do the hard work for you. This creates less repetitive work for technicians and less room for error, which both lead to an improved bottom line.

Cal Verification: In The Field
The CAL-V™ test is used for Calibration Validation on the Model FT4A. This test does the following:
Tests the functionality of the sensor and its associated signal processing circuitry
Checks for build-up on sensor that could affect calibration
Ensures that the meter still retains its original NIST-traceable calibration
Checks thermal conductivity (heat transfer) repeatability of the sensor