AN EFFICIENT TRANSMITTER FOR ACCURATE RESULTS
TechStar & Yokogawa Team Up To Bring You The Industry Standard In Pressure Measurement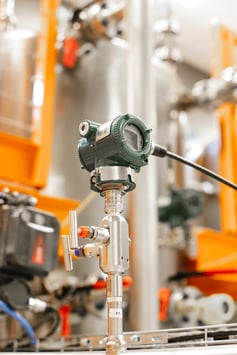 Our pressure transmitters do more than just provide accurate and reliable data for process control. Our differentiator is Yokogawa's DPharp pressure instrumentation. This helps achieve enhanced product quality, reduced total cost of ownership, and increased plant availability. Engineered with DPharp sensor technology, our pressure transmitters deliver high reliability across a range of process conditions, eliminating numerous application challenges. We have a solutions for any pressure application including:
Absolute Pressure
Differential Pressure
Draft Pressure
Gauge Pressure
Low-Float Pressure
Mass Flow Pressure
Multi Sensing Pressure
Compact, lightweight, intuitive and intelligent, our pressure instruments are the industry standard. TechStar's Pressure Expert, Jason Ballard, is on hand in THE UNIT to break down the benefits and true differentiators:
Want to learn more about TechStar Pressure solutions? Complete the form to schedule a demo with Jason!
BENEFITS OF TECHSTAR PRESSURE
With improved digital performance, measurement accuracy, and overpressure protection, DPharp pressure transmitters contribute to enhanced product quality. Discover the benefits of TechStar Pressure Solutions:

Other pressure sensor technologies require an analog to digital conversion before the signal can be processed, introducing additional errors. In Yokogawa's pressure transmitters, the DPharp sensor directly outputs a digital signal, eliminating the need for analog to digital conversion and improving performance.

Fluctuations in static pressure and temperature cause errors in differential pressure measurement. Analog sensors can only measure DP & sensor temperature, therefore can only compensate for temperature effect.

Our pressure transmitters come with a truly quick and easy setup. Simply remove the display casing, and adjust to your applications required specifications. Want to see how easy it is? Watch our pressure expert, Jason Ballard, set up a Yokogawa EJA530A in THE UNIT. Want to get hands-on yourself? Visit THE UNIT!

The DPharp sensor has an unconditional long-term stability guarantee of ±0.1% up to 15 years under all operational conditions. As you gain experience with these transmitters, the interval between calibration checks is extended. Long-term this can help reduce your maintenance cost by up to 34%. Spend your time where it is most needed. Have calibration questions or requirements? Contact TechStar Field Service!

Yokogawa transmitters support all industry-standard field device communication protocols. Interoperability and interchangeability can be ensured. Use all the same tools and work procedures as before. Looking to implement a one tool solution for process communication? Check out The TechStar FLEX!

During improper manifold sequencing, startup and shutdown conditions, or process upsets, overpressure can occur. The simple, robust design of Yokogawa's DPharp pressure sensor makes it less susceptible to overpressure events. A mechanical system within the transmitter provides additional overpressure protection by equalizing the excessive pressure before it reaches the sensor. Once stable process conditions return, these features enable the transmitter to return to normal operation within the published specifications.

Harsh environments reduce the life of your instrumentation, causing maintenance issues and downtime. Our ruggedly constructed transmitters feature a four-bolt pressure-retaining design, Teflon coated stainless steel flange gasket, & a certified dual seal. Want extra protection? Check out our Instrument Enclosures!