Introducing The SignalFire Ranger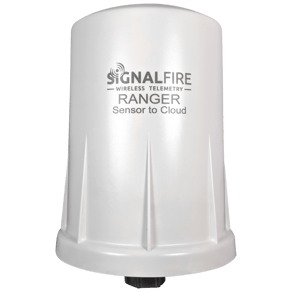 The SignalFire Ranger is an IoT (internet of things) cellular transmitter using the latest LTE CAT M1 technology for sensors and fully integrated with SignalFire's cloud monitoring and alarming services.
The Ranger comes complete with the mobile device ready SignalFire cloud interface to monitor, trend and get alarms either by text or email message. In addition, the cloud platform provides for remote configuration and troubleshooting of the Ranger node and its attached sensor(s). It is also possible to turn on/off the relay output from the cloud interface to remotely control pumps, motors, valves. Main features and benefits of the Ranger include:
Brings industrial measurements from a wide range of sensors to your fingertips.
Wireless connectivity to tanks in isolated areas.
Connects over cellular network to deliver data & lets to your mobile device.
Remotely configure, troubleshoot, update Ranger & sensor via the cloud.
Effortlessly connect to your tanks in isolated areas that contain critical material for your production process. Learn more about how can remotely measure, configure, troubleshoot and update your sensor from SignalFire's cloud interface in this video:
Cellular Products Frequently Asked Questions

What's The Difference Between The Ranger & Other SignalFire Products?
The Ranger utilizes LTE M1 cellular technology to send/receive messages directly to the internet. No Gateway is required. Other SignalFire products utilize 900MHz radios for local sensor data aggregation.

What Does Cellular Connectivity Mean?
This means that the Ranger communicates directly with the cellular network to the internet. No additional field equipment is necessary.

How Do I Set-up & Configure The Ranger?
Simply log into the SignalFire Cloud and enter the devices IMEI number (serial number) to link a device with your account. All configuration changes can then be made directly from the website.

What Are The Rangers Inputs?
The Ranger has one analog input (4-20mA/1-5V) which provides power to the attached sensor. There are two discrete inputs that report input state (open/closed), total counts and input frequency.

What Is The Rangers Output?
The Ranger has a single latching relay which allows on/off control of attached devices.

Which Cell Tower Will This Connect to?
The Ranger utilizes LTE-M1 technology which has been rolled out in the US by Verizon, AT&T and Sprint. The Ranger will support all carriers, but will be certified for Verizon at launch.

How Do You Receive Alerts?
Alerts and delivered via text message email and are fully configurable using the SignalFire Cloud.

How Do I View My Data?
The SignalFire Cloud uses HTML5 to provide access to your data from any web browser including on mobile devices.

How Long Does The Battery Last?
Battery life depends on several factors including the reporting interval and the attached sensor(s). As an example, a Ranger attached to a 4-20mA pressure transmitter, with a reporting interval of once every 5-minutes would have a battery life of more than 3 years.

Can The Ranger Be Connected Using Solar Power?
Yes, the Ranger can be powered using a SignalFire solar power system.