ASSET MONITORING AT THE PUSH OF A BUTTON
Are you in charge of unmonitored machinery? Is an online monitoring system too costly to install? Don't take the risk of a sudden outage, even with your less critical machines. There is a way to monitor and trend the vibration levels of your machines that fits in your pocket!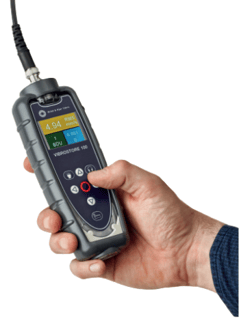 The VIBROSTORE 100 is ideally suited for monitoring vibration on semi-critical and small to medium-sized machinery:
Competitively priced
Single-handed use possible
Lightweight, yet robust and reliable for use in the field
Easy, intuitive use and setting adjustments
Suitable for personnel of all levels of expertise
Traffic-light coded display
Vibration values acc. to ISO 10816 built-in
Provides an indication of the most common machine faults: imbalance, misalignment, looseness
Up 800-line resolution spectra with zoom and cursor for measurement analysis
Pre-set, high-quality B&K Vibro sensor included in delivery scope
Companion handheld software

Report & Route Manager

Software optimized for use with VIBROSTORE 100; data transfer via USB
Full support by TechStar Training & Service
The VIBROSTORE 100 is the latest B&K Vibro handheld machine condition monitoring device. It measures vibration levels and bearing wear at the push of a button. Download the readings to the accompanying Report & Route Manager software for reporting, further analysis and trending. No developing fault will go undetected any longer. VIBROSTORE 100 is a must-have addition to any online monitoring system as part of your predictive maintenance strategy!
Want a demo of the VIBROSTORE 100? Complete the form on this page to learn more and speak 1-1 with out in house Condition & Vibration Monitoring expert, Jermey Morton.
YOUR TOTAL ASSET RELIABILITY SOLUTION PROVIDER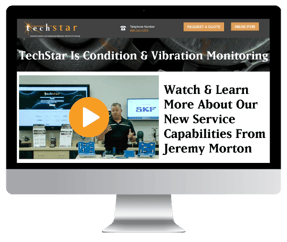 We deliver customized monitoring service programs tailored to your direct process needs that results in increased reliability, maximized production, and reduced maintenance costs. Our asset reliability services include:
Instrumentation

Full Turn-key Project Install, Commission or Upgrades
Sensor Installation, Troubleshooting & Verification of Calibration
Integration of Condition Monitoring Systems to Customer DCS, PLC & Various Other Systems

Machinery Diagnostics

Route Based Data Collection & Analysis
Motion Amplification Studies
Oil Analysis
Machinery Alignment & Balancing

And Much More...
Do you know specifically what to listen for, how to interpret it and, most importantly, what to do next? Your process relies on asset reliability. Without proper analysis, your process is susceptible to unplanned downtime. Complete the form on this page to discuss your specific Condition & Vibration Monitoring needs with our Condition & Vibration Monitoring expert, Jeremy Morton.