PRIORITIZING SAFETY DURING ANY DOWNTIME
When your process shuts down during a power outage, natural disaster or turnaround there is still the potential for dangerous gas to be present. Protect your employees with mobile gas detection that can be easily placed at a moment's notice. The mobile systems can be equipped with advanced technology such as the MSA Ultima X5000 Gas Monitor and are solar powered, easy to store when not in use and are fully customizable to meet your needs:

Key features include:
Solution
Advanced H2S & LEL Gas Detection
Strobe Light and Two Horns Provide 360° Audible and Visual Warning
Solar Powered with Battery Backup for 24-Hours/Day Operation
Fully Customizable to Meet Your Needs
Cart Based Design for Portable Use Anywhere You Need It
Advanced Technology
Utilizes MSA's Ultima x5000 Gas Monitor
Aluminum Construction for Rust-free Performance
Solid Tires for Flat-free Performance
Class 1 Division 2 Design
Wireless Monitoring (Optional)
900 MHz Spread Spectrum Wireless Connectivity Up To 3 Miles
Real-Time Monitoring from Centralized Location or Smart Phone
Can Connect Up To 30 Mobile Units to Centralized Gateway
Ability to Connect to Existing Control System
Although your process has stopped, hazardous hydrocarbons can still be in and around your facility. TechStar's Mobile Flame & Gas Detection Unit is equipped to assist your process during sensor calibrations/services, system shutdowns and all other facility disconnections due to a turnaround. Don't get caught off during downtime:
TECHSTAR IS YOUR GAS DETECTION ONE-STOP-SHOP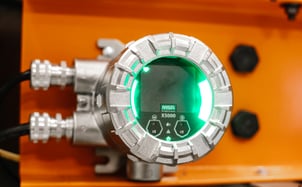 When it comes to Gas Detection, we are your one-stop-shop. Backed by industry leading manufacturers, MSA & General Monitors, we provide innovative solutions for your facility's protection. Do you require monitoring in areas with power limitations? Our wireless solutions and SCADA systems have you covered. TechStar is committed to you far beyond the implementation of a solution. Our highly trained service team is prepared to assist you for the lifetime of your equipment. We are your One-Stop-Shop
RECALIBRATE YOUR EXPECTATIONS WITH THE ULTIMA X5000 GAS MONITOR
The ULTIMA® X5000 Gas Monitor is the future of gas detection for oxygen, toxic and combustible gases. MSA XCell® gas sensors with TruCal® technology offer calibration cycles up to 18 months. The gas transmitter's advanced, multi-lingual OLED display is easy to read and the unique touch-screen interface makes it simple to navigate.
Key Features Include:
MSA XCell® Gas Sensors with TruCal® Technology – Detect sensor failures without applying calibration gas, and compensate for sensor drift due to environmental changes.

Two Sensor Inputs – Double the coverage by having the ability to connect to two sensor inputs into one transmitter.

Advanced OLED Display – Multilingual, easy to read touch-screen makes it simple to navigate.

TruCal* technology actively monitors the sensor integrity and compensates for environmental factors that cause regular electrochemical sensors to drift.
Bluetooth wireless technology allows mobile device to act as an HMI screen and controller. The X/S Connect App is designed with high security standards and provides real-time information to your mobile device
Identical footprint and wiring as the ULTIMA X series makes retrofits simple using the existing conduit and wiring as well as an integral mounting bracket
TEST DRIVE OUR FIXED GAS & FLAME DETECTION SOLUTIONS IN THE UNIT
Want to see our Fixed Gas & Flame Detection Solutions in action? Schedule time to visit in THE UNIT and get a hands-on demonstration and learn how to set-up, configure, service & troubleshoot sensors such as the MSA X5000 before it is installed at your facility! Capabilities of THE UNIT include:
Fully Functional Live Unit
Duplicate Process Conditions
Solve Issues, Troubleshoot, Test
Process Specific Training in A Controlled Environment